Dear 3A parents and students,
We just finished the comprehensive test! Yeah!!!!
Most of the students had done a wonderful job!
All the hard work and preparation had paid off!
Li Lao Shi is so proud of you! 3A studentsl!
Thank you, 3A parents! I can see your great, great at-home-support through students' outstanding job!
If your child didn't pass the test, there is one makeup test in May, and one before Summer break. I strongly recommend student to stay in my class for next year if they didn't pass the makeup tests. Learning language has nothing to do with grade level. My 11-year-old daughter is in CCCS 2nd grade now, and she has established a solid fundation. I have full confidence that she will be able to handle the higher level next year! Please let your child stay in the same level one more year if he/she needs more time and help. I will help them with all my heart! If your child fail the makeup tests, please let him/her stay in my class next year. Please don't let your child wonder in 4th grade class and lost all of their condifence and interest in Chinese next year!
Special thanks to:
Faye, 宜昇's mom,
for being in charge in the courtyard for student safty,
and watching the door while the test was in progress!
Peter, 安安's dad, and
Yee Ping, 康權's dad,
for providing typing devices and helping to manage the class.
Your warming kindness made today's test went smoothly!
I can't imaging if you were not there to help today!
Thank you so~~~~~ much!!! Dear Faye, Yee Ping, Peter!!
Next class, we will review lesson 8 and start lesson 9.
Please practice the news anchor and weather person lines at home.
Please see the following for news anchor lines.
You can listen to the lines here.
各位觀眾朋友,大家好,
我是王小明,
歡迎您收看今天的
康郡午間新聞。
首先來關心今天的
焦點新聞。
現在把時間
交給氣象主播李小華。
謝謝李小華。
謝謝您收看今天的
康郡午間新聞,我們再會。
====================================================================
Weather person lines:
You can listen it here.
謝謝王小明。
各位觀眾朋友,大家好,
我是李小華 。
讓我們一起來關心
灣區今天的天氣。
把時間還給主播王小明。
======================================================
I was so busy today and didn't even realize there is a pack of orange on my desk!
I don't know who gave the orange to me. Please kindly let me know, and thank you so much!!
Thanks Yee Ping for the grapefruit!!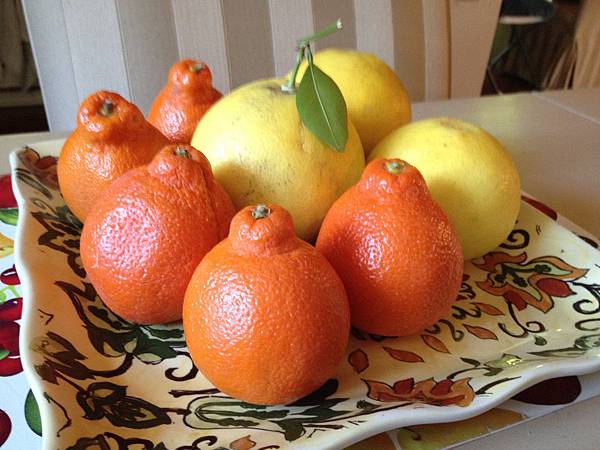 Li Lao Shi's daughter and son reviewed and studied for the comprehensive test at home. Aren't they funny?
Have a nice weekend!
Li Lao Shi