Group discussion time: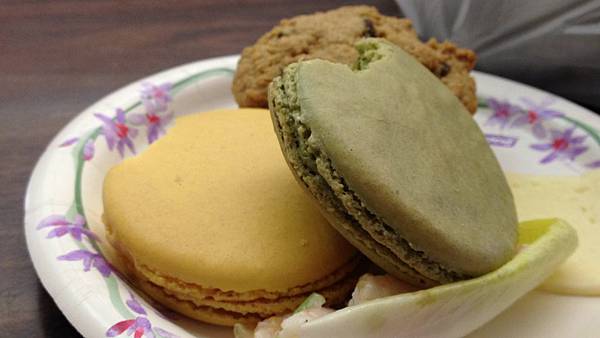 Thanks Kim, 美琪's mom, for the heavenly home-made Macaron!!
Thanks Peter for saving an extra green one for me.
Thanks Yee Ping for helping out in class~
Following are today's class notes and homework assignment.
==
=============
==============
==============
==============
==
Dear 3A parents and students,
Yesterday was the Lantern Festival "元宵節".
It falls on the 15th day of the 1st lunar month.
Students learnt the story, custom, and how people in Taiwan celebrate this special day. Here is the story video of "元宵節 yuan2 xiao1 jie2"
Students practiced lesson 8 grammar and phrases in groups.
We will start lesson 9 next week.
In 3/28, we will have our first practice exam of the Comprehensive Test.
I will put together all the material on "quizlet" this week for students to review.
Most of our students have decided to be "news anchor" or "weather person" for our end-of-semester presentation.
Here are the lists:
News anchors:
Anna安安, Brycen謹華, Eric光政, Ethan宜昇, Meghan美琪,
Michelle詠欣, Nicholas康權, Samuel磊磊, Shireen華禧, Tyler思賢
Weather persons:
Bridget啟蘇, Rachel雅芝, Sofia蘇菲.
Have not decide:
Heather海靈, Joshua天樂, Kayla克拉, Kaylie殷琪
There are only 6 students turned in their workbooks today. Please engcourage your child to review, study, and finish their weekly assignment at home before every class.
Student who doesn't turn in homework will be asked to stay after school to finish homework. Student who doesn't mail typing homework to me will also be asked to stay and finish their typing after class.
I do need and very much appreciate your support, and I will be more than happy to help if students have any question about their homework.
Homework:
1. Speaking: Read textbook page 95, 好,便,得
when you call Li Lao Shi on Mon, Wed, Fri.
You can listen to Li Lao shi's voice recording in email attached file or in our
album. Album link:
http://noyalee.pixnet.net/album/video/579791041
2. Leaning sheet: Please see email attached files for 2 learning sheets "學習單".
Just choose one sheet to do, no need to do both leaning sheets.
3. Typing: Type 2 sentences on page 95 "practice it". See bellow:
妹妹的愛好是唱歌,她唱的真好聽。
mei4 mei de ai4 hao4 shi4 chang4 ge1,
從學校到我家得開車半個小時,很不方便。
cong2 xue2 xiao4 dao4 wo3 jia1 dei3 kai1 che1 ban4 ge xiao3 shi2,
hen3 bu4 fang1 bian4。
Have a wonderful weekend~
Li Lao Shi