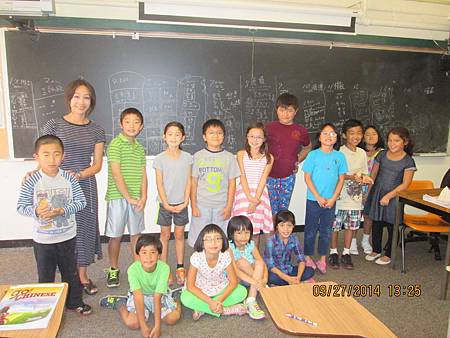 Homework:
1) Workbook: page 7, 8, 9, 11. (4 pages)
2) Writing: (I will send the writing sheets by email)
Write
Chinese characters and pinyin
for each word.

上shang4 下xia4 課ke4
學xue2 校xiao4
參can1 加jia1
休xiu1 息xi2
樂yue4 隊dui4
回hui2 家jia1
可ke3 是shi4
課ke4 外wai4 活huo2 動dong4
送sonh4 給gei3
想xiang3
要yao4
還hai2 得dei3
3) Revew lesson 2's flash cards, remember the meanning and pinyin of every phrases.
4) Read page 17 when you call Li lao shi every Monday, Wednesday, and Friday.
Class Note:
We started lesson 2, 學校活動 (xue2 xiao4 huo2 dong4) = School activities.
1) Vocabularies:
New vocabularies are all listed in homeowrk writing assignment above.

2) Grammar:
想(xiang3)= wish to, have desire of,
要(yao4)= going to, want to
得(dei3)= must, have to
得..., 還得... (dei3..., hai2 dei3) = must..., also must....
可是(ke3 shi4)= but,however
送(song4)= give + (someone something)
送..... 給.....(song4.... gei3....)= give + (something) 給 + (somesone)
ex: 送
我送奶奶一本書。(wo3 song4 nai3 nai yi4 ben3 shu1)
送someone
ex: 送...給...
我送一本書給奶奶。(wo3 song4 yi4 ben3 shu1 gei3 nai3 nai)
送gift 給someone
3)How to change posotive sentences to question sentences:
positive sentence: 可以/不可以(ke3 yi3/ bu4 ke3 yi3)= May/ May not
question sentences: 可不可以?(ke3 bu4 ke3 yi3)= May.... ?
ex:Q:我可不可以回家?(wo3 ke3 bu4 ke3 yi3 hui2 jia1)=May I go home?
A:可以。 (ke3 yi3)=You may.
4) Reading:
Students leaned how to read the text on page 17 which they will read when they call me.
Special thanks to 康權's parent,Yee ping, for taking pictures, turning on and off the ppt and light constantly, and helping me managing class order. Thanks to our great helper~
Li lao shi
Please enjoy the pictures that Yee Ping took on 9/27. 2014